Product Integration
·
Linköping
Electronics Engineer to work with cutting-edge technology
Are you an experienced electronics engineer who wants to work with cutting-edge technology and hands-on with electronics development? Perhaps you are looking for an opportunity to be part of an innovative company where your creativity will get to blossom, where decisions are made quickly, and where we value the importance of celebrating our victories? Then come and join the award-winning cleantech company Epishine in the role of Electronic Engineer!

About Epishine
Epishine was founded on the basis of more than 30 years of research in organic electronics, photovoltaics and the development of our breakthrough manufacturing process within printed indoor solar cells. This unique manufacturing process achieves a groundbreaking level of scalability in terms of manufacturing, and provides industry-leading efficiency in low light conditions. Our first product is optimised for harvesting energy in low light, indoor environments. It's a small, thin and flexible indoor solar cell, printed on recyclable plastic that is easily integrated into wireless products where it converts light into electricity.

Epishine's vision is to make our planet more sustainable. Nothing less and nothing more. Our mission is to be at the forefront of printed organic solar cells and, in a series of phases, offer the world's most scalable, resource-efficient, and affordable solar cell. Our company was founded in 2016 and consists of dedicated teams working together at our headquarters in Linköping, Sweden. To learn more about Epishine's work and vision, go to www.epishine.com
The mission
Drive the technology forward and be one of the first to work with flexible, printed electronics. Take on the challenge of designing electronics in microwatts. Conduct experiments, evaluate and build prototypes. Does this awaken the electronics nerd in you? Then you are in luck!

As an Electronic Engineer at Epishine, you would be part of our Product Integration team which consists of engineers within mechanics and electronics. The team's purpose is to help our customers transition to Light Energy Harvesting by working on the application of Epishine's solar cells into customer products. Your mission in the team will be to coordinate and work on internal and customer projects, by acting as a technical advisor and doer within electronics. The role will require seeing the bigger picture while still handling design details. You must be prepared to work hands-on with electronics development, whilst also taking on a customer-facing, project coordinating role. As Epishine grows, the role will become more defined, and you will get to choose which direction you would like to go in.

The position offers varying tasks such as: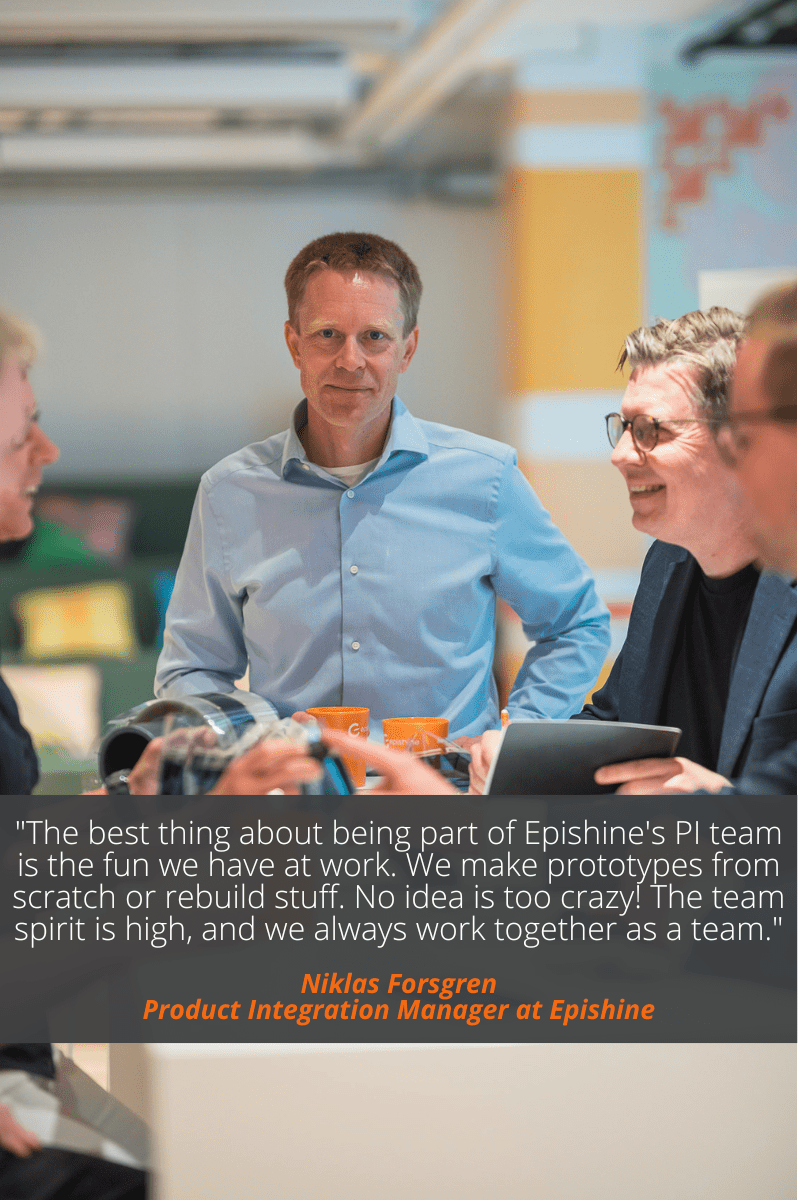 Actively drive ongoing customer projects and act as a technical advisor to find optimal solutions for customer applications and design
Collaborate and communicate internally to solve customer issues and improve processes
Stay updated on industry trends and innovative technologies to drive continuous improvements of electrical integration according to our company roadmaps
On occasion participate in trade shows, exhibitions, and events to spread the word about Epishine and our mission
You will collaborate closely with colleagues from our Market & Sales team as well as from our Tech team to efficiently aid our customers' transition to Light Energy Harvesting. You will be based in our headquarter office in Linköping.


Who are we looking for?
For this position, we are looking for engineers who have a relevant, technical education within electronics. You have a couple of years' experience working with low power electronics design and development. It is beneficial if you have experience in software development (preferably in Python and/or C), project management, life cycle assessment and/or customer relations.
As a person, you are hands-on with a structured approach who can take projects from start to finish. You are communicative and enjoy collaborating efficiently in teams, and your social skills help you to build relations with people internally as well as externally. You are a problem solver who thrives when faced with a challenge. As Epishine is a quickly growing company, it is important that you are flexible and able to adapt to changes.
As our teams consists of colleagues from various parts of the world, you should be comfortable communicating in verbal as well as in written English. It is meritorious if you also speak Swedish, German, French and/or Chinese.
What do we offer?
At Epishine, we offer the chance to be part of an exciting journey and the opportunity to contribute to a more sustainable planet. As a quickly growing scale-up, there will be opportunities for development, and you will have brilliant colleagues to collaborate with and learn from. Additionally, we offer a secure employment with pension and insurance benefits, flexible working hours, the possibility of working remotely, yearly wellness allowance and a friendly company culture where collaboration, innovation and sustainability are at our core.

Application procedure
Does this role sound exciting? We will work with ongoing selection so apply today if you are interested. The starting date is flexible, but as soon as possible if we get to decide!
---
If you have any queries about this recruitment, please contact our recruiter Emma Bjurling (emma.bjurling@epishine.com)

Team

Role

Electronics Engineer

Locations
About Epishine
Epishine is developing, producing, and selling organic solar cells, used to harvest light in any lighting conditions.
Product Integration
·
Linköping
Electronics Engineer to work with cutting-edge technology
Loading application form